A variety of new and exciting opportunities await you along the 1000 Islands Parkway. Boating enthusiasts will enjoy the many services available in the hamlets of Rockport and Ivy Lea. The local waters are great for scuba diving or take a scenic boat tour of the 1000 Islands.
Services, lodging and camping facilities can be found all along the Parkway. The scenery is simply spectacular with panoramic views of the St. Lawrence along most of the 1000 Islands Parkway — stop and take it in.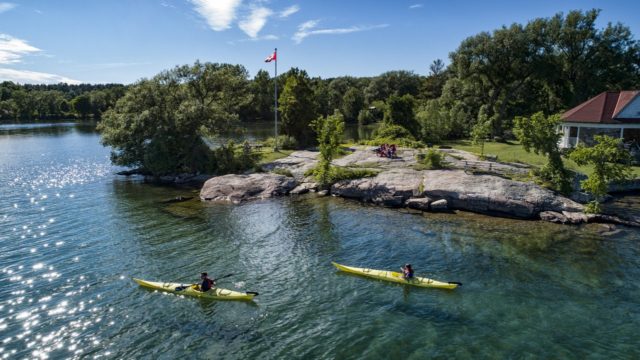 On land, explore the natural beauty of the Gardens at Landon Bay, cycle along the paved bike path, visit the parks at Brown's Bay and Mallorytown Landing or enjoy one of many scheduled artist colony tours. See for miles and miles from 400 feet high atop the 1000 Islands Skydeck on Hill Island.
On water, cruise the 1000 Islands aboard the Rockport Boat Line in Rockport, or Gananoque Boat Lines (also in Gananoque) docking at Ivy Lea.
Thousand Islands International Bridge
Opened in 1938 by Prime Minister William Lyon Mackenzie King and President Franklin Delano Roosevelt, the Thousand Islands International Bridge stands as a shining symbol of the goodwill and alliance between the U.S. and Canada. It provides easy passage between the two countries linking I-81 in New York and Highway 401 in Ontario.
Travelers can also access scenic driving routes that parallel the St. Lawrence River such as the Seaway Trail (Route 12) in New York and the 1000 Islands Parkway (Highway 2) in Ontario.
The unique multi-span structure includes a soaring 4,500-foot suspension bridge over the American Channel. It touches down on a series of islands and crosses the international border between American Wellesley Island and Canadian Hill Island where several island communities and parks are located.
There are few places that can be reached by car or foot that offer such a panoramic view of the region. It is a great place to view the spectacular scenery and the massive cargo freighters on their voyage from the Atlantic Ocean to the Great Lakes.