The 1000 Islands (pronounced "Thousand Islands," not "One Thousand Islands") is a sightseer's paradise and a popular destination for those looking for an authentic outdoor vacation. Located along the peaceful border between northern New York State (USA) and southeastern Ontario (Canada), the 1000 Islands is a region of endless shorelines, rich history and unique culture.
Vacationers have been coming to the 1000 Islands (there are actually 1,864 of them) for more than 150 years to enjoy its breathtaking beauty. More than 50 miles of waters that were once patrolled by pirates (yes … pirates!) and Prohibition bootleggers are now cruised by cottagers who enjoy serene bays and vacationers who tour aboard guided trips and hear the astonishing stories behind the islands.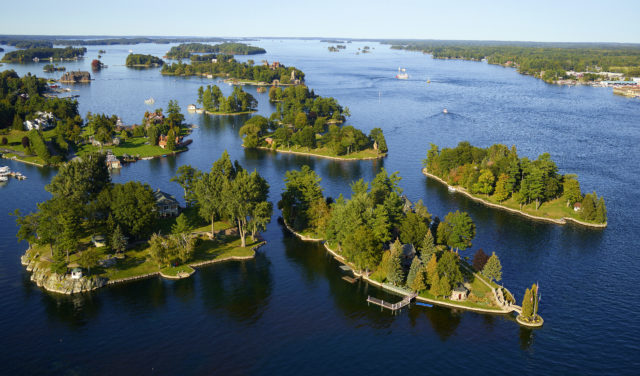 To be considered an island, it has to stay above water 365 days a year and support a living tree. Many are open to the public and are home to parks, campgrounds and cottage rentals. Wellesley Island (United States) is connected to the U.S. and Canadian mainland by the Thousand Islands International Bridge. Wolfe, Howe and Simcoe islands (Canada) are reachable by ferries. Thousand Islands Islands National Park (Canada) is a group of 21 islands along the 1000 Islands Parkway, Ontario, that are open to the public.
Getting Around
Opened in 1938 by Prime Minister William Lyon Mackenzie King and President Franklin Delano Roosevelt, the Thousand Islands International Bridge stands as a shining symbol of the goodwill and alliance between the U.S. and Canada. It provides easy passage between the two countries linking I-81 in New York and Highway 401 in Ontario.
Travelers can also access scenic driving routes that parallel the St. Lawrence River such as the Seaway Trail (Route 12) in New York and the 1000 Islands Parkway (Highway 2) in Ontario.
The unique multi-span structure includes a soaring 4,500-foot suspension bridge over the American Channel. It touches down on a series of islands and crosses the international border between American Wellesley Island and Canadian Hill Island where several island communities and parks are located.
There are few places that can be reached by car or foot that offer such a panoramic view of the region. It is a great place to view the spectacular scenery and the massive cargo freighters on their voyage from the Atlantic Ocean to the Great Lakes.
Where to Stay
Lodging accommodations in the region are almost as diverse as the islands themselves. You can rent private island homes, stay in waterfront inns and beds-and-breakfast or opt for full-service hotels – and that says nothing about the thousands of campsites scattered throughout more than a dozen communities.
Picking a place to stay in the 1000 Islands is a truly individual choice. You'll find locally owned and operated hotels and motels within walking distance of active downtown commercial districts full of specialty shops and dining. Cottages and longer-term rentals tend to be scattered on the outer community limits to give a sense of privacy. B&Bs are often converted from historically significant buildings.
Campers benefit from a mix of public and private campgrounds, many of which are right on the water with island views. Whether your visit is about pampering comfort for roughing it and getting away from it all, 1000 Islands has a place for you to stay.
Lighthouses, historic castles, maritime museums, world-class fishing and diving, quaint downtown shopping, on-the-water dining, family amusements and more make the 1000 Islands a destination that visitors come to again and again.
Anywhere you go, the 1000 Islands is truly a fun and friendly destination. Stroll through village downtowns, have fun on the water all day long or take in a drive-in movie at night. Have a ball on mini-links throughout the region, get behind the wheel of a go-kart or visit zoos and aquariums focused on local forest and marine life.